Bring the Moon to Your Landscape Lighting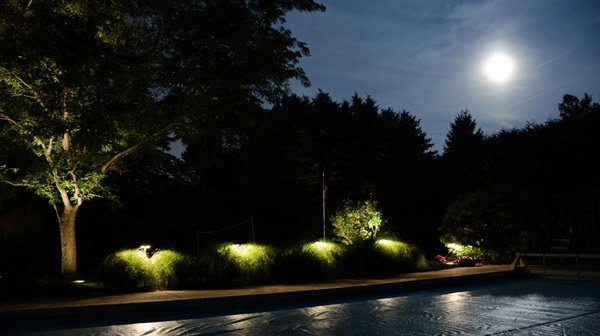 There's nothing more romantic than looking up at the moon on a warm and breezy spring evening. Have you ever wished you could bring the moon closer? Well now you can bring the moon right to your patio with Landscape Lighting Ottawa services!
Creating moonlighting with your landscape lighting can be a tricky technique, but once done properly - it looks exquisite. All it takes is thoughtful placement of your landscape lighting and you're well on your way to creating a gorgeous lighting display. Here are a few tips from Landscape Lighting Ottawa in designing dramatic moonlighting effects.
Use colours to your benefit
Blues and whites are the two tones that are going to create the right moon effect. Think of the moon shining on your lawn – it's often a silvery white colour with some deeper blue tones from the night sky. You'll want to avoid amber landscape lighting if you want the right atmosphere. Also avoid using too many blues in your landscape lighting setup as this will ruin the silvery, moonlight effect and instead create a more muted type atmosphere.
Subtlety is key
One of the most gorgeous aspects of moonlight is that it is soft and mysterious. In order to capture this with your Landscape Lighting Ottawa services you'll want to embrace subtle illumination. Don't over light! Use only the amount of fixtures necessary to light up your lawn and to create a cozy effect. You can still protect against trespassers and against hazardous areas in your yard with the right moonlighting design.
Place your landscape lighting carefully
Most often, Landscape Lighting Ottawa finds clients limiting their moonlighting design to their trees. While trees are a great locale for creating moonlighting, there are other areas that work nicely for this style. Most often these designs use downlighting.
Other locales for your landscape lighting services are from the top of your porch, gazebo roof, or from your rooftop and eaves. Where you place your landscape lighting to create moonlighting will depend on your design and landscape features of your home. Landscape Lighting Ottawa can help you find the aspects of your lawn that will work best for producing this style.
One way you can maximize the placement of your Landscape Lighting Ottawa system is by using the water features on your property. Moonlight reflected off the water is irresistibly gorgeous. Position your lights above ponds, fountains, or pools so that they shimmer off the surface. These lights should be soft so that you get just a gentle reflection that doesn't appear harsh or artificial.
Layered landscape lighting services are best
To generate a truly natural appearance, layer your Landscape Lighting Ottawa design so that they have a complex effect. Moon and stars never have a single direction, so you don't want a single fixture to create moonlighting. You need multiple, overlapping fixtures from various positions.
Spring is almost here so don't wait until it's too late! Receive your complimentary quote from Landscape Lighting Ottawa today!