Landscape Lighting Lifetime Maintenance
Maintaining your Ottawa landscape lighting system is not an intensive or expensive undertaking. In fact, it's really quite simple, especially when you choose Landscape Lighting Ottawa by Nutri-Lawn as your preferred maintenance provider. Our trained technicians and licensed electricians can easily locate and repair any problem with a professionally installed system – even those designed by our competitors!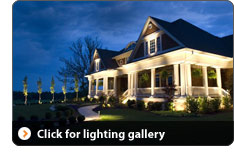 Maintenance Service You Can Trust
The specific needs of your system will vary based on your situation and design, but generally, all outdoor lighting systems in Ottawa are exposed to dirt, rainfall, snow and ice. While our sophisticated lighting fixtures are designed to withstand the elements, inclement weather can still damage the lamps in your system. That's why regular maintenance is so important. At Landscape Lighting Ottawa, we offer a full-service maintenance program that's designed to keep your outdoor lighting system functioning properly season after season. Our maintenance plans include the following services:
Component Review
An outdoor lighting system requires the proper wattage, voltages, amperages and circuit boards in order to perform as intended. These important electrical components can malfunction for a variety of reasons, the most common of which is faulty installation. The professional lighting technicians at Landscape Lighting Ottawa will test your voltages and amperages, as well as troubleshoot your system in order to ensure that all of your electrical components are working safely and effectively.
Cleaning
Ottawa landscape lighting systems are plagued by calcium, lime deposits and hard water scale. Proper maintenance of your system involves cleaning any fixture housings and removing any build-up from the lenses. A professional cleaning can make a significant difference (up to 40%) on to the light output of your fixture. It can also help your system retain it's value, which will also increase your properties worth.
Minor Beam Adjustments
Landscapes are organic and ever changing. Plant growth is constantly wreaking havoc on outdoor lighting systems, distorting lighting effects and hampering visibility. As plants mature, it is often necessary to have an outdoor lighting expert out to make adjustments to the beam spread of the lamps in your system. Our Nutri-Lawn Ottawa landscaping experts can also trim back any unruly plant life in order to maintain the lighting effects and security features of your system. In some cases, lamp relocations are necessary in order to improve the appearance of your property and eliminate security issues from your yard.
Clock and Controller Adjustments
Sometimes your lighting system can go a little haywire due to daylight savings or seasonal changes. We can adjust the timer on your system to ensure your lighting is functioning as you wish. We'll also provide you with the programming instructions so that you can perform simple updates on your own.
Repairs and Replacements
Wear and tear, age and the effects of inclement weather can sometimes damage components of your outdoor lighting system. Landscape Lighting Ottawa can replace elements such as sockets, screws and lenses. We can also replace entire fixtures in order to ensure optimum performance and maintain the value of your system.
Landscape Lighting Ottawa is committed to providing exceptional maintenance services over the lifetime of your lighting system. This maintenance plan includes:
A complimentary technician visit to your property six months following your system installation
A second technician review at the end of the first year
Extensive warranty programs
During these visits our lighting technician will perform a full component review and address any issues or questions that you may have concerning your system.
Schedule your maintenance review with Landscape Lighting Ottawa today. Contact our office today to book an appointment or learn more about our service offerings. A properly serviced outdoor lighting system will increase the value of your home considerably. Let us show you how!