We Service Our Competitors' Systems
Are you unhappy with your current lighting system design or installation? Then give Landscape Lighting Ottawa a call. Our knowledgeable technicians can handle any repair or malfunction – even ones that are plaguing a system installed by one of our competitors! Our preventative maintenance and emergency repair services are designed to make owning and caring for your Ottawa outdoor lighting system a snap. No repair is too complex or simplistic for our lighting experts – simply call or click here to send us an email with your service question or request.
Trust the Professionals at Landscape Lighting Ottawa
Servicing an outdoor lighting system requires patience, care and a complex understanding of electrical repairs. Our trained technicians and licensed electricians are experienced in all aspects of lighting repairs and replacements, including routine maintenance checks and system upgrades.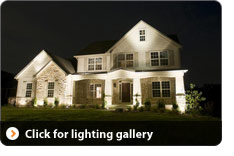 Ottawa outdoor lighting installations are exposed to the elements, which can cause significant damage to your system over time. While all of the lighting products offered by Landscape Lighting Ottawa are designed to withstand moisture, regular maintenance and service inspections are required to protect your system from prolonged wear and tear, inclement weather and accidental damages. Remember: a well maintained lighting system doesn't just look good; it will also increase the value of your home.
Lighting Repairs Are Not a DIY Project
When it comes to caring for your outdoor lighting system, always hire a professional. Landscape Lighting by Nutri-Lawn boasts a fully licensed and insured installation and maintenance team. While there are a number of things that you can do to prolong the life of your system, the best by far is trusting regular repairs and maintenance to a professional. Homeowners who try to take care of their Ottawa landscape lighting systems often cause more harm than good. This is because homeowners are more likely to replace lamps with models of lesser quality or incorrect beam spreads. Simple mistakes like this can compromise the functionality of your system and invalidate any manufacturers warranties. Improve the safety and security of your property by hiring our professional team.
But homeowners aren't the only culprits! Watch out for supposed "experts" who offer to clean and service your system for a discounted price. More often than not, these technicians will know very little about the intricate workings of your system, like voltage, amperage, wattage and circuit requirements. At Landscape Lighting Ottawa, we know how to troubleshoot any system in order to quickly locate and repair system errors. View our lifetime maintenance promise for more information on our commitment to customer care and after-sale service.
With regular service, your landscape lighting system will perform as designed, illuminating your property and enhancing the elegance of your home or business for many years to come.