Enhance Your Yard with Landscape Lighting Ottawa from Nutri-Lawn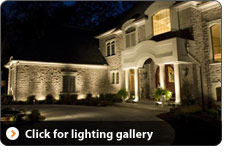 Why spend your time indoors when a creative outdoor lighting system can improve the usability and safety of your outdoor space? Light up the night with a custom outdoor lighting installation from Nutri-Lawn's Landscape Lighting Ottawa service.
At Landscape Lighting Ottawa, we design each outdoor lighting system based on our client's unique needs. Whether you're illuminating your home, pathway, business or garden, the installation experts at Landscape Lighting Ottawa will go the extra mile to create a luxurious look that exceeds your expectations.
Exceptional Services
Landscape Lighting Ottawa specializes in custom landscape and seasonal lighting design, installation, service and maintenance. We use only the highest quality outdoor lighting components and proudly stand behind our work through extended warranties and service guarantees.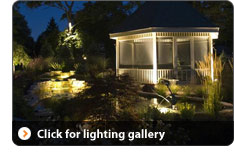 At Landscape Lighting Ottawa, we strive to provide our customers with unparalleled after-purchase service. If ever you experience issues with your outdoor lighting system, let us know. We'll do whatever we can to improve the functionality of your lighting system, enhance the appearance of your property and increase the usability of your outdoor space. We're also confident that the installation of one of our outdoor lighting systems will increase the overall value of your home.

Put your property in the spotlight with Landscape Lighting Ottawa by Nutri-Lawn. Our Ottawa outdoor lighting services include:
Residential, commercial, and industrial landscape lighting
Full-service landscape lighting repairs and upgrades including transformer and bulb replacements
Seasonal maintenance and annual service
Wire relocating, replacement, and troubleshooting
Having difficulties with one of our competitors systems? Let us help! Our technicians will service any outdoor lighting system in the Ottawa area, even those of our competitors.
Trust Our Landscaping Legacy
Landscaping is our passion at Nutri-Lawn. From grass to gardens, irrigation to illumination, we can create an exceptional outdoor space in any Ottawa neighbourhood. Whether you're starting from scratch or simply looking to improve upon the work you've already done, Nutri-Lawn can provide you with full-service landscaping support and ongoing advice.
From aesthetics to safety, our outdoor lighting systems improve all aspects of your property. Draw attention to your Ottawa home or business with a custom lighting installation from Landscape Lighting Ottawa. Contact a Nutri-Lawn landscape lighting representative today for more information on our installation, maintenance and repair services.