What Sets Us Apart From Our Competitors
Nutri-Lawn Ottawa's legacy and reputation is built on an innovative approach to outdoor design. This is especially apparent in our landscape lighting installations. Landscape Lighting Ottawa combines function and creativity to create custom lighting effects and installations. At the end of the day, landscaping isn't just our profession – it's our passion. Let us shed some light on our expertise: review our Ottawa landscape lighting portfolio.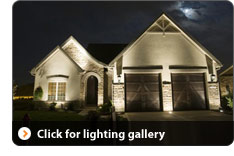 We Build Bright Relationships
At Landscape Lighting Ottawa, we measure success based on customer satisfaction. This commitment to quality is unwavering; in fact, our detailed-oriented approach is one-of-a-kind. Our design and installation staff will go out of their way to create a set-up that highlights all of your property's best features, while at the same time masking any imperfections and improving overall security.
Landscape Lighting Ottawa is dedicated to providing customers with personal service, professional advice and ongoing support. Our highly trained staff of outdoor lighting professionals is backed by years of experience as well as ongoing technical instruction. The following are just a handful of the factors our designers consider when preparing a custom outdoor lighting installation:
Unique Architectural Features
Landscape Lighting Ottawa combines landscape and architectural lighting techniques in order to achieve unique lighting effects and a cohesive finished product.
Safety and Security
Simple additions to your landscape lighting system can help improve the overall safety of your property immensely. From motion lights to walkway lighting, security lighting is a quick and affordable way to enhance the safety of your yard, parking lot, or entryway.
Neighbouring Properties
A beautiful outdoor lighting system shouldn't be distracting. Our design team will take special precautions to ensure that your lighting installation doesn't blind other home or business owners in your neighbourhood.
Clever Concealment
Our Ottawa landscape lighting installations are designed to blend into their surroundings. This means that every wire and lamp will be concealed or positioned for optimum effect.
Investment Potential: Outdoor lighting will enhance your home's value.
Unlike other lighting companies, Landscape Lighting Ottawa is based on a strong foundation of landscaping and property maintenance. This intimate knowledge of the local Ottawa environment enables us to create a cohesive landscape design that's both sophisticated, eco-friendly and will help increase the value of your property.
Add drama, depth and distinction to your Ottawa property with professional landscape lighting service from Nutri-Lawn Ottawa. Contact Landscape Lighting Ottawa today and bathe your home or business in the many benefits of outdoor lighting.