LED Outdoor Lighting Installations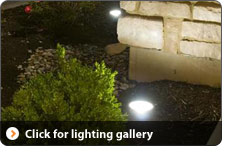 Want to improve the appearance of your property without emptying your pocket book? Then consider incorporating LED outdoor lights into your landscape lighting. Advancements in outdoor LED technologies have taken the landscape lighting industry be storm, providing residential and commercial customers with an exciting new level of lightweight, economical lighting solutions. Whether you're looking to retrofit an older system or install a brand new LED design from the ground up, Landscape Lighting Ottawa has the knowledge and expertise needed to create an exceptional outdoor LED lighting installation.
Understanding LED Technology
LED lights, or light emitting diodes, are illuminated solely but the movement of electrons in a semiconductor unit. When compared to incandescent bulbs, LEDs use significant less electricity and last for an extended period of time. Though they often come in tiny packages, outdoor LED lights produce an impressive amount of light, making them a great choice for a wide variety of landscape lighting designs.
Breaking Down the Savings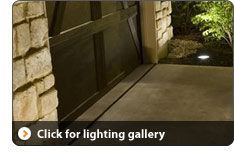 One of the biggest advantages of LED outdoor lighting is reduced power consumption. When designed properly, a LED landscape lighting system can approach 80% efficiency (the remaining 20% is expended as heat loss). This is the exact opposite to conventional incandescent lighting systems, which operate at about 20% efficiency. In terms of savings, imagine using a 100-Watt incandescent light bulb for one year, with an electrical cost of 10-cents/kilowatt hour. This would result in $88 in electricity costs. Of that $88, $70 will have been wasted on heat loss. If an 80% efficiency LED were used for the same period, the electricity cost would be just $23 for the year. These efficient systems will not only cut your utility bills today, they'll also help increase the value of your home tomorrow.
Learn to Love LED Lighting
LED outdoor lighting provides Ottawa property owners with exceptional lighting quality and enhanced security. The following are just a few reasons why you should consider opting for LED landscape lighting:
LED bulbs and lamps rarely overheat thanks to minimal heat loss.
The average lamp life for a high-pressure sodium outdoor light is 15,000 hours. Metal halide lighting solutions boast a lifespan of 35,000 hours. LED lights burn bright for more than 50,000 hours.
LED light fixtures emit a focused beam of light. When positioned by a professional, this beam will create very little glare.
LED lights operate at lower wattages than bulbs that are traditionally used for outdoor lighting projects.
Modern LED lights produce the same quality of light as traditional high-pressure sodium bulbs, but require significantly less electricity to operate.
LED fixtures offer greater directional control of light, making it easier to achieve desired lighting results.
The soft glow produced by LED's will help eliminate dark patches from your property, improving the overall security of your outdoor space.
Invest in an LED lighting system for your Ottawa property today and start reaping the benefits of more efficient energy consumption. LED lamps last up to 20x longer than traditional lighting methods, and Landscape Lighting Ottawa stands behind their LED landscape lighting systems through the inclusion of a seven year limited-warranty.
For more information on LED outdoor lighting systems, please contact one of our lighting technicians directly at 613-800-9090.