Uplighting and Tree Lighting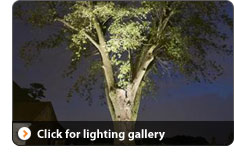 Looking for a unique way to bring attention to your outdoor space? Then consider incorporating uplighting and tree lighting techniques into your Ottawa landscape lighting design. These two lighting methods will enhance the look of your outdoor environment by adding drama, depth and texture to some of the most prominent fixtures on your property – trees!
Bring Light To Your Trees
Deciding which tree or trees you want to light is the key ingredient to a successful tree lighting project. When selecting a tree, make sure you opt for one that is structurally sound and undamaged. Lighting a tree with structural defects will simply accentuate these eyesores.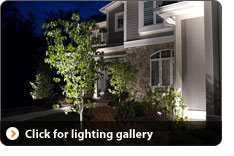 Next, it's time to select your lighting fixtures. The Ottawa landscape lighting experts at Nutri-Lawn highly recommend a powerful streaming light, such as an uplight or spotlight. These stake-mounted fixtures are extremely economical and flexible, which will enable you to choose the best beam angle for your lighting design.
Your lighting fixture will also help dictate the viewing angle of your tree lighting design. Trees that are farther away from your audience will need to be illuminated brighter than ones that are positioned closer. Of course, each Ottawa landscape lighting design is unique, so adjustments and proper position will be necessary.
Get into Position
Positioning your uplighting fixture can be a tedious process, but once complete, the effect is awe-inspiring. When uplighting a tree, the shape and density of the tree's canopy should be heavily considered. If the tree's canopy is too dense, light positioned at the base could be obstructed by foliage, limiting the impact of your lighting design. A tree with an open structural design, or a less dense canopy, can be uplit from the base without any fear of light being trapped by lower branches.
Uplighting and tree lighting can have a big impact on your Ottawa property. Just look at these beautiful designs!